Manual Shades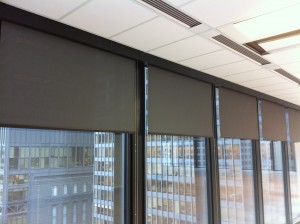 Cost-effective manual roller shades are available in different options and they offer an abundance of benefits. Whether you are looking for interior light control, privacy, or a decorative way in which to define your interior space, our state-of-the art patented shade system grants you the ease of finger-tip raising action. The beauty of these shades is that they will ascend in a slow and controlled fashion, all on their own due to their state of the art built-in patented decelerator mechanism. What is more, these handsome shades come to you completely factory assembled with easy to install directions or can be installed by one of our professionals.
If your requirements necessitate a complete black out system, manual shades can provide this solution with our alternative of a total blackout structure. This fully integrated system combines a side and optional bottom channel which projects the look of a portrait in your window. We will also offer you your choice of mechanism. You can pick either manual spring rollers with built in decelerators and stop mechanisms which permit a slow and controlled ascent, or alternately, spring-assisted chain rollers which allot for an effortless operation. Our contemporary and elegant designer fabrics will add a touch of sophistication to any space, no matter what your style.
No matter what your needs are, all of our manual shades include:
100's of different fabrics to choose sun control (1%, 3%, 5%, 10% open area)
Complete blackout fabrics eliminating all light
Sun control fabric for protection from direct solar radiation and/or glare.
Special gel film shade which allow for a clear view at any time day or night.
Technically advanced solar screen fabrics that protect interiors from damaging UV rays while conjunctively allowing you comfort from glare, heat, and sun exposure.
Beautiful valence and fascia enclosures will hide the hardware where so desired.
Side channels that are slim, dependable, stylish and fully functional.
Simply stated, manual shades are the ideal solution for whatever your needs are.