Motorized Shades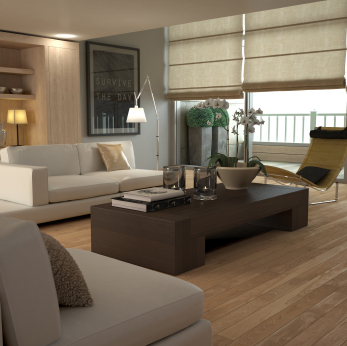 A key element in many of the architectural designs of today is the utilization of large areas of glass in both residential and commercial spaces. This type of design calls for extra large shades.
Motorized shades may be wired to allow for individual control or group control with the ease of a flick of a switch. Clearview Solutions has the capacity to engineer very large motorized shades which offer a clear- cut answer to these types of requirements. These oversized shades entail special construction which utilizes both battens and tubes. Motorized shades can be operated through an easy designer wall switch, through infrared or a radio remote control. Moreover, motorized shades come with an innovative black out system that is available with side and optional bottom channels that project the look of a portrait in your window once installed.
As such, it is easy to see that this high tech shade system offers a complete solution to any window treatment situation anywhere – be it a building, hospital, a home, a school, or restaurant.
All of our motorized systems include:
100's of different fabrics to choose sun control (1%, 3%,5%, 10% open area)
Complete blackout fabrics eliminating all light
Sun control fabric for protection from direct solar radiation
and/or glare.
Special gel film shade which allow for a clear view at any
time day or night.
Technically advanced solar screen fabrics that protect
interiors from damaging UV rays while conjunctively allowing you comfort from
glare, heat, and sun exposure.
Beautiful valence and fascia enclosures will hide the
hardware where so desired.
Side channels that are slim, dependable, stylish and fully
functional.